Analyzing, Interpreting, and Communicating Routine Family Planning Data in South Sudan

Routine FP data in South Sudan_WP-19-231.pdf
— PDF document, 555 kB (568,484 bytes)
Author(s): Tobijo Denis Sokiri Moses, Zakaria Kenneth Kaunda, and Wani Bessensio Ezeron
Year: 2019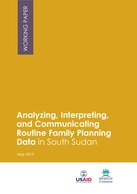 Abstract:
South Sudan's modern contraceptive prevalence rate stands at just 2.7 percent, with an unmet need for modern family planning (FP) at 30.8 percent. Multiple barriers contribute to low FP uptake in South Sudan: inadequate data collection tools and insufficient analysis, interpretation, and communication of data. Research from the Democratic Republic of the Congo shows that improved management of FP data enables stronger ownership of program results at the health facility and community levels, empowering community members and providers to increase FP uptake.
The purpose of the study was to explore how effectively FP data in the routine health information system (RHIS) are analyzed, interpreted, and communicated, and it discusses barriers to RHIS data use and ownership in two states in South Sudan, to inform policy and programmatic decision making.
The study used a cross-sectional observational design with quantitative and qualitative approaches to data collection and analysis. Data were collected from 178 health facilities across 17 counties in two states in South Sudan: Central Equatoria and Western Equatoria.