Women's Property and Inheritance Rights and HIV in Farming Communities around Lake Victoria, Northwestern Tanzania – A Quantitative Analysis

wp-17-179-en.pdf
— PDF document, 923 kB (945,762 bytes)
Author(s): Shoki P, Nyenga C, Kasongi D
Year: 2017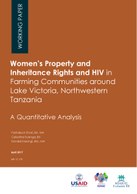 Abstract:
Despite the growth of HIV prevention efforts, infection rates in sub-Saharan Africa remain high. Tanzania has one of the highest prevalence rates in the world, at 5.1 percent among 15–49 year olds, according to the 2012 Tanzania HIV/AIDS and Malaria Indicator Survey. The HIV prevalence rate in Tanzania is much higher among women (6.2%) than men (3.8%). The spread of HIV and AIDS is shaped by economic, political, and social factors, particularly gender issues, such as violence against women in all its forms. Widowhood often involves discrimination, deprivation, and suffering. Many women lose their property and other assets following the husband's death. Property inheritance is always the prerogative of the deceased man's male kin. The practice of wife inheritance forces the widow to marry her brother-in-law or another male in her late husband's family. The practice of sexual cleansing or purification forces her to engage in unprotected sex with a male in-law.
Our study was designed to establish the causal relationships between women's property inheritance rights and HIV and AIDS, by researching the experiences of widowed women living with HIV and AIDS (WLHA) in smallholder farming communities around Lake Victoria, in Tanzania.
Women living with HIV in rural Tanzania continue to be at risk because of inadequate social, economic, legal, and emotional support. Social exclusion and the erosion of asset bases reinforce their vulnerability. Our study revealed a deep, complex set of social and economic challenges that need to be addressed with innovative strategies to ameliorate gender-based stereotypes that disempower women. We offer six recommendations for interventions designed to strengthen the role of WLHA, and to reduce the incidence of transactional sex, gender-based violence, and other societal HIV risk behaviors.