Investigating Risky Sexual Behaviours among Youth in the Context of the HIV Epidemic in Mbeya Region, Tanzania

WP-17-175-en.pdf
— PDF document, 870 kB (891,391 bytes)
Author(s): Mutasingwa LV, Mbirigenda SK
Year: 2017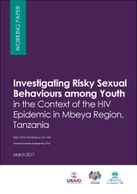 Abstract:
Mitigating HIV and AIDS among youth has been a major policy agenda both internationally and nationally, within Tanzania. Two concerns associated with mitigation efforts are increasing sexual activity at young ages and a burgeoning population of out-of-school youth whom poverty, lack of supervision, and unemployment seem to push into alternative life patterns that present risks to their health. This situation poses a serious challenge for Tanzania, where half the population is categorised as young.
The study focused on 54 individuals (27 males and 27 females) from three identified categories: youth ages 15–24 years old (30 respondents); gatekeepers (16 respondents); and health service providers (8 respondents). Data collection involved qualitative techniques: in-depth interviews (IDIs), focus group discussions (FGDs), and document review.
The majority of youth studied had heard about HIV and its related effects; however, condom use, and attendance at SRH services is very low among this population. The government, parents, nongovernmental organisations (NGOs), religious institutions, and health service providers play a role in addressing risky sexual behaviours among youth. Parents have some responsibility for engagement by youth in risky sexual practices: poor marital relationships and instability in the home, supervising their children poorly, failing to communicate with their children about HIV and prevention, and putting their children in unsafe and vulnerable situations. However, many other factors contribute to participation by youth in risky sexual practices.
Despite increased government and NGO measures against HIV and attempts to minimise youths' vulnerability to the disease, the community still does not fully support these efforts, and youth behaviour change remains a challenge. The study recommends that the Tanzanian government remain engaged and demonstrate leadership by effectively contributing to initiatives that address the HIV epidemic and create an environment supportive of access and use by youth to SRH services.