Impact Evaluation of the Mayer Hashi II Project in Bangladesh

Impact Evaluation of the Mayer Hashi II Project in Bangladesh_TRE-19-18.pdf
— PDF document, 7,003 kB (7,171,688 bytes)
Author(s): Rahman, M., Curtis, S., E-Ijdi, R., Haider, M., Imam, A., Ahmed, A., Bloom, S.
Year: 2019
Rahman, M., Curtis, S., E-Ijdi, R., Haider, M., Imam, A., Ahmed, A., Bloom, S. (2019). Impact Evaluation of the Mayer Hashi II Project in Bangladesh. Chapel Hill, NC, USA: MEASURE Evaluation, University of North Carolina.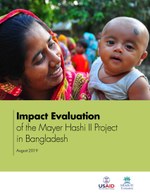 Abstract:
The USAID-supported Mayer Hashi Phase II (MH-II) project, implemented during October 2013 through September 2018 aimed to increase the use of effective family planning (FP) and reproductive health services, with a focus on the informed and voluntary use of long-acting reversible contraceptives (LARCs) and permanent methods (PMs). This external impact evaluation was conducted by MEASURE Evaluation to determine the impact of the MH-II project on LARC and PM use at the population level. The evaluation used household, provider, and facility surveys conducted in 2015 and 2017 in early (Phase I) and late (Phase III) implementation districts supplemented by qualitative interviews with district family planning managers in 2017 to contextualize results.
There were no increases in LARC and PM use or in intention to use LARCs and PMs at the population level in Mayer Hashi Phase I or Phase III program areas by 2017. The percentage of providers who were trained in LARCs and PMs and PPFP increased notably in both Phase I and Phase III areas, but changes in intermediate outcomes hypothesized along the program pathway were not realized. Contextual analysis identified chronic system weaknesses in provision of LARCs and PMs outside of the scope of the MH-II project and persistent low demand for LARCs and PMs as impediments to widespread increases in the use of LARCs and PMs. Future programs focusing on LARCs and PMs need to consider these larger system constraints in their design and in setting their expected outcomes. They also need to further engage the private sector given its growing role in health care.