Quality of Tuberculosis Services Assessment in Nigeria: Report

Quality of TB Services Assessment_Nigeria_Report_TR-19-361.pdf
— PDF document, 1,725 kB (1,767,112 bytes)
Author(s): Kolawole Oyediran
Year: 2019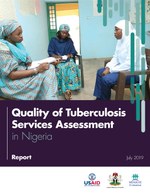 Abstract:
According to the 2018 Global Tuberculosis Report released by the World Health Organization (WHO), tuberculosis (TB) is the tenth leading cause of death and is the leading cause of death from a single infectious agent. Heads of state committed to ambitious targets aimed at eliminating TB during the first-ever United Nations High-Level Meeting on Tuberculosis conducted in September 2018 at the United Nations General Assembly.
WHO has identified 30 countries where the TB burden is high, including Nigeria. The 2016 National Health Policy highlights TB as a priority public health challenge and targets "reduction in the tuberculosis prevalence rate and the tuberculosis mortality rate in Nigeria by ensuring universal access to high-quality, client-centered TB/leprosy diagnosis and treatment services." Service quality remains a concern and has received very limited attention in the TB research agenda in Nigeria. Only a few studies, focused on small geographic areas, have been implemented or published, and there has been no prior nationwide study of the quality of TB services in Nigeria.
Studies show that good quality of care in TB services helps patients and their families address their health needs safely and effectively. Therefore, to enhance TB service use, there is a need to assess and improve the quality of TB services. A Quality of TB Services Assessment (QTSA) was conducted by MEASURE Evaluation in Nigeria to assess the quality of TB services in randomly selected health facilities. Its purpose was to identify where services were of high quality and where there were gaps and to ensure that TB patients were receiving the care that they deserve. The QTSA assessed three domains of quality of care: the structure of the health facility, the service delivery process, and the outcomes of service delivery. The results were used to develop programs or interventions to improve TB service delivery.
The QTSA tools adapted for use in Nigeria are available here: https://www.measureevaluation.org/resources/publications/tl-19-42
QTSA documents for other countries are available here: https://www.measureevaluation.org/our-work/tuberculosis/quality-of-tb-services-assessments