Monitoring the Outcomes of Orphans and Vulnerable Children Programs in Kenya: Findings from 2016–2018 Panel Data: MWENDO Project

Monitoring outcomes of PEPFAR OVC programs in Kenya_MWENDO panel_TR-19-342.pdf
— PDF document, 1,854 kB (1,898,614 bytes)
Author(s): Irit Sinai, Clement O. Odour, Dennis Akeyo, Cheikh M. Faye, Damazo T. Kadengye, Nelson Langat
Year: 2019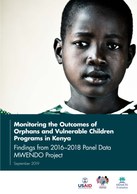 Abstract:
This report presents findings from a panel study of beneficiary households receiving services from Making Well-Informed Efforts to Nurture Disadvantaged Orphans & Vulnerable Children (MWENDO), in Western Kenya. MWENDO is a five-year project funded by the United States Agency for International Development (USAID) and implemented by Catholic Relief Services that provides an umbrella of services to orphans and vulnerable children (OVC).
This study was undertaken by MEASURE Evaluation—a project funded by USAID and the United States President's Emergency Plan for AIDS Relief (PEPFAR)—at the request of PEPFAR and the USAID Kenya mission. This 2016–2018 panel study was designed to meet PEPFAR's monitoring, evaluation, and reporting requirements, which include standard indicators. PEPFAR encourages the collection of data on these indicators every two years.
When MWENDO began implementing OVC programs in 2017, it took over the support of OVC beneficiaries from its predecessor project—AIDS, Population and Health Integrated Assistance Plus Program, Western Kenya, known as APHIAplus. The panel study compared results from Round 1 (2016, APHIAplus beneficiaries) and Round 2 (2018, with the same households, now MWENDO beneficiaries). It measured changes in the well-being of OVC beneficiaries over the two years using nine essential survey indicators required by PEPFAR and two supplemental indicators.
Find other materials from Round 2 are here.
Materials related to Round 1 can be found here.