Characterizing Male Sexual Partners of Adolescent Girls and Young Women in Mozambique: An Intervention to Promote Data Use

Characterizing Male Partners of AGYW Mozambique_tr-19-321.pdf
— PDF document, 1,875 kB (1,920,743 bytes)
Author(s): William Miller
Year: 2019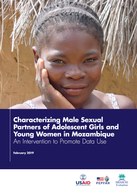 Abstract:
Adolescent girls and young women (AGYW) ages 15–24 have been identified as a population extremely vulnerable to HIV. Whereas other countries in the region are experiencing a decline in HIV prevalence, Mozambique is facing high and sustained prevalence. HIV prevalence is notably higher among women, and this disparity is much starker among youth ages 15–24: the prevalence of HIV among females is more than three times that of males.
The United States President's Emergency Plan for AIDS Relief, through the Determined, Resilient, Empowered, AIDS-free, Mentored, and Safe (DREAMS) initiative (www.dreamspartnership.org), recognizes the importance of reaching AGYW. In Mozambique, comprehensive AGYW programs under the DREAMS initiative are under way in prioritized locations.
One of the programming strategies of DREAMS is to prevent HIV among male sexual partners of AGYW and reduce the infectiousness of those partners who are HIV-positive (by controlling their viral load), thereby reducing HIV incidence among AGYW. This approach requires information about the characteristics of AGYW's sexual partners―who they are and how they can be reached. This information is lacking in Mozambique.
To fill this knowledge gap, the United States Agency for International Development in Mozambique asked MEASURE Evaluation to conduct a study that would characterize men who have recently engaged in sexual activity with AGYW, the relationship dynamics, and factors that influence men's engagement with HIV and AIDS prevention and care services.
This report presents a description of the intervention, preliminary results, and recommendations for others wishing to conduct a similar data use activity.