Regional Initiative Health Information Systems Strengthening: Latin America and Caribbean: 2005-2010

tr-12-85.pdf
— PDF document, 3,080 kB (3,153,986 bytes)
Author(s): Plaza B, Giusti A, Palacio LS, Torres N, Reyes N
Year: 2012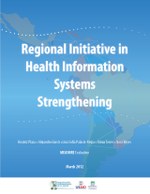 Abstract:
Latin America and the Caribbean (LAC) is a large and diverse region, ranging from tropical to polar climates, which includes over 20 countries with 560 million people, speaking mostly Spanish and Portuguese.
Within this spectrum, Health Information Systems have performed inadequately because, among other things, there is less emphasis on improving data quality and continuous use of information; too little use of performance improvement tools, more emphasis on use of information technology for improving performance rather than looking at why staff cannot remain motivated or retain the skills learned; and less emphasis on empowerment and decision-making.
There is also insufficient promotion of a culture of information by senior management, lack of dissemination of success stories on data use and a lack of role models or champions of data use. Coupled with the issues mentioned above, the traditionally disjointed and unstructured activities among donor agencies to strengthen HIS in the LAC Region have contributed to poor performance.
MEASURE Evaluation has been strategically collaborating with the Pan-American Health Organization (PAHO) with financial support from the USAID–LAC Bureau since 2004. This partnership has yielded precise and tangible results including the documentation and dissemination of best practices, provision of technical assistance to use Health Metrics Network (HMN) Framework and Tools and technical support in the use of Performance of Routine Information System Management (PRISM) framework and tools. The objective of the regional health information systems activity is (broadly) to encourage "low tech" improvements to routine health information systems in LAC. For example – rather than focusing on expensive high tech solutions to health information needs – we want countries to focus first on how information flows, how it is coordinated etc. so that policy makers at all levels of the health system can make use of that information.
Furthermore, the collaboration between MEASURE Evaluation and PAHO and the associated results has attracted new partners which have widened the scope of technical expertise available to countries of focus and also extended the technical assistance for HIS assessment and strengthening provided under the previous collaboration with new countries.