Health Service Integration in Senegal: A Case Study

sr-15-122-en.pdf
— PDF document, 2,640 kB (2,703,676 bytes)
Author(s): MEASURE Evaluation
Year: 2015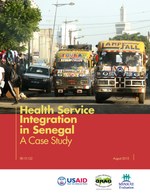 Abstract:
Integration of services has been adopted in recent years across the health sector as a strategy to improve the availability and access to quality services for populations. Case studies were launched in Senegal and Malawi to conduct in-depth assessments of the integration process. These countries were selected because they expressed a willingness to participate and were in the process of scaling up an integrated service delivery intervention. This report presents the findings from Senegal.
The purpose of this study was to document the changes required within the health system to make service integration a reality. The study also aimed to document how the monitoring and evaluation systems have been or could be strengthened to better monitor and evaluate integration, including documentation of indicators and information sources in use.
This study used the case study methodology and did not seek to be representative, so these results, particularly in terms of clients and providers, can not necessarily be generalized to the rest of the country. However, the diversity of the types of respondents and study sites should inspire some confidence that the results reflect the typical experience in Senegal, especially at the national level. These findings should be relevant to planners and donors in other contexts who would plan and implement integrated interventions and systems that monitor and evaluate the interventions.