Implementing Nigeria's Master Facility List: Guidelines

Implementing Nigeria's MFL_Guidelines_ms-19-168.pdf
— PDF document, 1,367 kB (1,399,846 bytes)
Author(s): MEASURE Evaluation
Year: 2019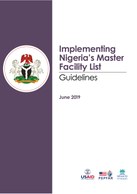 Abstract:
Healthcare services in Nigeria are provided by thousands of public and private health facilities around the country. The Government of Nigeria and other health system stakeholders routinely require information about the distribution of health facilities and the services that they offer. The most recent nationwide effort to list the health facilities in Nigeria was completed in 2013. 
The World Health Organization defines a master facility list (MFL) as "a complete listing of health facilities in a country (both public and private) and is comprised of a set of identification items for each facility . . . and basic information on the service capacity of each facility." Previous MFLs in Nigeria lacked processes for continuous updating or an information system to manage the MFL across states. They collected only a few parameters and several projects continued to create separate lists for their own purposes. 
To ensure that Nigeria's MFL could be used across different applications, it had to be continuously accessible and up-to-date. Therefore, a health facility registry (HFR) was developed to manage the MFL. The HFR has built-in processes to address the continuous status changes of individual health facilities. It will facilitate the integration and interoperability of different applications being deployed for the national health information architecture in the country.
This document presents the definitions of the information contained in the MFL. It is an implementation guide on how to use this information. Other resources developed by MEASURE Evaluation (a project funded by the United States Agency for International Development and the United States President's Emergency Plan for AIDS Relief) to support the implementation of the MFL in Nigeria are available here: https://www.measureevaluation.org/countries/nigeria/toolkit-for-implementing-the-health-facility-registry-in-nigeria/