Facilitators, best practices and barriers to integrating family planning data in Uganda's health management information system
ja-19-268
Author(s): Stephen Ojiambo Wandera, Betty Kwagala, Olivia Nankinga, Patricia Ndugga, Allen Kabagenyi, Bridgit Adamou, and Benjamin Kachero
Year: 2019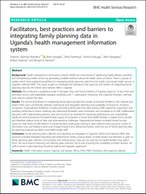 Abstract:
Background
Health management information systems (HMIS) are instrumental in addressing health delivery problems and strengthening health sectors by generating credible evidence about the health status of clients. There is paucity of studies which have explored possibilities for integrating family planning data from the public and private health sectors in Uganda's national HMIS. This study sought to investigate the facilitators, best practices and barriers of integrating family planning data into the district and national HMIS in Uganda.
Methods
We conducted a qualitative study in Kampala, Jinja, and Hoima Districts of Uganda, based on 16 key informant interviews and a multi-stakeholder dialogue workshop with 11 participants. Deductive and inductive thematic methods were used to analyze the data.
Results
The technical facilitators of integrating family planning data from public and private facilities in the national and district HMIS were user-friendly software; web-based and integrated reporting; and availability of resources, including computers. Organizational facilitators included prioritizing family planning data; training staff; supportive supervision; and quarterly performance review meetings. Key behavioral facilitators were motivation and competence of staff. Collaborative networks with implementing partners were also found to be essential for improving performance and sustainability.
Significant technical barriers included limited supply of computers in lower level health facilities, complex forms, double and therefore tedious entry of data, and web-reporting challenges. Organizational barriers included limited human resources; high levels of staff attrition in private facilities; inadequate training in data collection and use; poor culture of information use; and frequent stock outs of paper-based forms. Behavioral barriers were low use of family planning data for planning purposes by district and health facility staff.
Conclusion
Family planning data collection and reporting are integrated in Uganda's district and national HMIS. Best practices included integrated reporting and performance review, among others. Limited priority and attention is given to family planning data collection at the facility and national levels. Data are not used by the health facilities that collect them. We recommend reviewing and tailoring data collection forms and ensuring their availability at health facilities. All staff involved in data reporting should be trained and regularly supervised.