Monitoring Outcomes of PEPFAR Orphans and Vulnerable Children Programs in Kenya: Comparison of 2016 and 2018 Findings from the MWENDO Cross-Sectional Study

Monitoring PEPFAR OVC Programs_Comparison_Mwendo Cross-Sectional_GR-19-78.pdf
— PDF document, 234 kB (240,520 bytes)
Author(s): MEASURE Evaluation
Year: 2019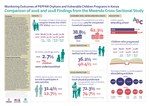 Abstract:
This cross-sectional survey was designed to assess the current status of programs for orphans and vulnerable children (OVC), using the standardized essential survey indicators (ESI) launched by the United States President's Emergency Plan for AIDS Relief (PEPFAR) in
2014, as part of its monitoring, evaluation, and reporting guidance. PEPFAR requires ESI data to be collected every two years. MEASURE Evaluation, funded by the United States Agency for International Development (USAID) and PEPFAR, collected data from beneficiaries of the USAID-funded APHIAplus and Mwendo projects, in western Kenya. In the first round, conducted in 2016, 426 caregivers of OVC beneficiaries enrolled in APHIAplus Western Kenya were selected for interview from all households served by the project in the region, using a cluster sampling design. The 2018 survey was done independently of the previous survey. It consisted of interviews with 99 caregivers randomly selected from households that were not part of the 2016 survey and were served by three local implementing partners working with the Mwendo project. In both rounds, caregivers were asked about themselves, their households, and all children under age 18 years who were under their care (1,438 children in 2016 and 386 in 2018).
Find other materials from Round 2 are here.
Materials related to Round 1 can be found here.