Monitoring Outcomes of PEPFAR Orphans and Vulnerable Children Programs in Namibia Comparison of 2016 and 2018: Findings from the Project HOPE Namibia Panel Study

GR-19-77.pdf
— PDF document, 248 kB (254,871 bytes)
Author(s): MEASURE Evaluation
Year: 2019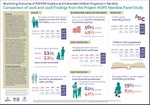 Abstract:
MEASURE Evaluation—funded by the United States Agency for International Development (USAID) and the United States President's Emergency Plan for AIDS Relief (PEPFAR)—conducted a study of PEPFAR-funded programs for orphans and vulnerable children (OVC) in Namibia, using PEPFAR's monitoring, evaluation, and reporting (MER) essential survey indicators (ESI). The study focused on the work of Project HOPE Namibia (PHN) and was designed to answer these two questions: (1) What is the well-being of OVC in PHN's PEPFAR-funded OVC projects in six districts of Namibia? (2) Has the well-being of these children improved over time?
In Round 1 of this panel study, conducted in 2016, caregivers of OVC in 591 households were interviewed to assess the well-being of the children in their care. Of that group, caregivers in 545 PHN-beneficiary households were interviewed again in 2018, for Round 2, after verification of their status with PHN's updated records and a community trace-and-verify exercise. We asked the caregivers about the PHN program services received or accessed and/or activities offered that aimed to improve the health and well-being of OVC in the household. Data collection used standard questionnaires programmed into an electronic data capture system. We measured OVC well-being by analyzing these data using the nine MER ESI.
This poster shares more. Access the related Monitoring the Outcomes of Orphans and Vulnerable Children Programs in Namibia: Findings from 2016–2018 Panel Data, Project HOPE Namibia report.