Evaluation of Services for Orphans and Vulnerable Youth in Botswana: Qualitative Findings

Evaluation of Services for Orphans and Vulnerable Youth in Botswana_Qualitative Findings_fs-19-393.pdf
— PDF document, 388 kB (397,588 bytes)
Author(s):
Year: 2019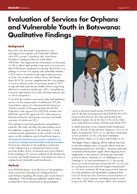 Abstract:
Since 2011, the Botswana Comprehensive Care and Support for Orphans and Vulnerable Children (BCCOVC) project—funded by the United States President's Emergency Plan for AIDS Relief (PEPFAR)—has supported the Government of Botswana (GOB) to deliver high-quality social services in seven sites that PEPFAR has designated for priority. The GOB's core package of services for orphans and vulnerable children (OVC) consists of psychosocial support and provision of food, school uniforms, clothes, shoes, and toiletry items. BCCOVC services supplemented this core package of services with the goals of increasing uptake of HIV testing and other reproductive health services, improving adherence to antiretroviral therapy (ART), strengthening economic opportunities for youth, and improving the rate of school completion.
To provide the evidence necessary to plan and implement services for the unique needs of adolescent OVC, the United States Agency for International Development (USAID) and the GOB requested that MEASURE Evaluation, with support from PEPFAR, evaluate how PEPFAR- and GOB-supported OVC interventions in Botswana affect the educational, economic, and health outcomes of adolescent OVC.
The evaluation used both quantitative and qualitative methods. This brief describes the main findings from the qualitative component of the evaluation.
Access related resources here: https://www.measureevaluation.org/resources/evaluation-of-services-for-orphans-and-vulnerable-youth-in-botswana.