Caring for Armenia's Vulnerable Children: Institutionalizing a Platform for Cross-Sector Collaboration

Caring for Armenia's Vulnerable Children_Institutionalizing Cross-Sector Collaboration_fs-19-363.pdf
— PDF document, 191 kB (195,855 bytes)
Author(s): MEASURE Evaluation
Year: 2019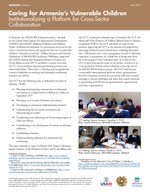 Abstract:
In Armenia, the MEASURE Evaluation project—funded by the United States Agency for International Development (USAID) and USAID's Displaced Children and Orphans Fund—facilitated development of a governance structure for the reform of national policies and systems for the care of vulnerable children: "national care reform." The governance structure was a country core team (CCT) established by Armenia's Ministry of Labor and Social Affairs in June 2017.
Team members represent government partners and other stakeholders. Their task is to develop and strengthen the country's leadership in assessing and ultimately accelerating national care reform. This brief explains the structure and roles of this CCT and the team's usefulness as a platform for collaboration.
Read more about MEASURE Evaluation's work on alternative care for children here.
Read more about MEASURE Evaluation's work in Armenia here.