The Cost of Case Management in Orphans and Vulnerable Children Programs: Findings from Rwanda

fs-19-336.pdf
— PDF document, 375 kB (384,270 bytes)
Author(s): MEASURE Evaluation
Year: 2019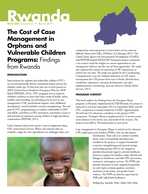 Abstract:
The USAID- and PEPFAR-funded MEASURE Evaluation project conducted a six-country study for insight on current approaches to case management delivery and the cost of those approaches.
This brief outlines the findings from the Turengere Abana program in Rwanda.
The complete study report—The Cost of Case Management in Orphans and Vulnerable Children Programs: Results from a Mixed-Methods, Six-Country Study—is available at https://www.measureevaluation.org/resources/publications/tr-19-327/.