Sustainability Planning, Implementation, and Transition: A Case Study from the MEASURE Evaluation–Tanzania Associate Award

fs-19-328.pdf
— PDF document, 309 kB (316,777 bytes)
Author(s): MEASURE Evaluation–Tanzania
Year: 2019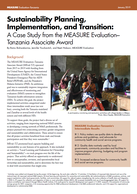 Abstract:
The MEASURE Evaluation–Tanzania Associate Award (MEval-TZ) operated from 2015 to 2019 with funding from the United States Agency for International Development (USAID), the United States President's Emergency Plan for AIDS Relief (PEPFAR), and the President's
Malaria Initiative (PMI). Its ambitious goal was to sustainably improve integration and effectiveness of monitoring and evaluation (M&E) systems to strengthen Tanzania's health information systems (HIS). To achieve this goal, the project implemented activities categorized under three intermediate result areas covering both the Tanzania mainland and Zanzibar at several levels of the health system and with different HIS.
To support these goals, the project had a diverse set of activities, ranging from improving national M&E systems to developing a strong network of M&E professionals. The project pursued two crosscutting activities: gender integration and sustainability and collaboration. These aimed to ensure that all project activities benefitted from male and female participation and that they were sustainable.
MEval–TZ promoted local capacity building and sustainability as core features of its approach. This brief focuses on the project's sustainability planning, implementation, and transition.