Building a Strong and Interoperable Digital Health Information System for Uganda

fs-18-296-rev.pdf
— PDF document, 897 kB (918,735 bytes)
Author(s): MEASURE Evaluation
Year: 2018 (Revised in 2019)
MEASURE Evaluation. (2018). Building a Strong and Interoperable Digital Health Information System for Uganda. University of North Carolina at Chapel Hill, Chapel Hill, North Carolina, USA: MEASURE Evaluation.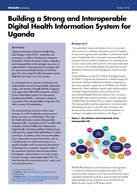 Abstract:
Uganda launched its National eHealth Policy and Strategy in May 2018. Leadership and governance, workforce development, enterprise architecture, health information systems integration, and interoperability are the strategy's key areas of implementation. Most important, the strategy calls for "harmonized eHealth initiatives at all levels," given the various digital health information systems (HIS) that have taken root in the country.
To understand how to prioritize investments and implementation toward interoperability within these systems, the Ministry of Health (MOH) of Uganda, with support from MEASURE Evaluation—funded by the United States Agency for International Development (USAID)—conducted a readiness assessment of the interoperability of Uganda's HIS with in-country HIS stakeholders.
The assessment team focused on three major domains of an HIS: leadership and governance, human resources, and technology. They used the Health Information System Interoperability Maturity Toolkit, developed in 2017 by MEASURE Evaluation and the Health Data Collaborative's Digital Health and Interoperability Working Group, with input from digital health stakeholders in Ghana and Kenya. A maturity model measures the ability of an organization or government entity, such as a health ministry, to continuously improve in a specific discipline until it reaches the desired level of development, or maturity. Using the results of the assessment, the team brainstormed activities that Uganda could prioritize to move the country toward a stronger, interoperable digital HIS. This brief describes the assessment process, results, and recommended actions.