Criteria for Successful Integration of Community Health and Social Service Data in DHIS 2

FS-16-188-en.pdf
— PDF document, 125 kB (128,887 bytes)
Author(s): MEASURE Evaluation
Year: 2016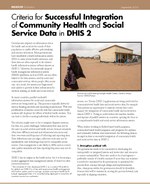 Abstract:
Governments depend on information about the health and social service needs of their population to enable effective policymaking and resource allocation. Most governments have established a health information system (HIS) to track critical health indicators, and these data are often captured in the district health information system software known as DHIS 2. However, the nationally adopted health management information system (HMIS) platforms, such as DHIS, are not often linked to the data systems used by social and community services, where people often access care. As a result, the systems are fragmented and unable to provide holistic information for decision making on health and social services.
In many countries, parallel nonhealth information systems for social and community services are being scaled up. This process is typically driven by various funding priorities and reporting requirements. With this proliferation of systems comes the risk that community health workers will duplicate the efforts of facility health workers. This can lead to double-counting individuals within the system. The solution might seem to be to integrate disparate systems, but this, too, poses challenges. Information flow may not be the same in social services and health sectors, because ministries often have different national and subnational structures and their own ways and frequency of collecting and reporting data. Data definitions may not align, collection tools may not be standardized, and technology may not be compatible across sectors. Data management is also likely to differ, and as a result data quality standards and data reporting frequency may not be compatible.
DHIS 2 has its origins in the health sector, but it is becoming a routine aggregated data management system of choice in other ¹ The University of Oslo developed DHIS 2 as a routine HIS platform for global use. DHIS 2 is a free and open-source health management information system used to manage, analyze and report health facility-level aggregated data. It is currently being deployed in more than 47 countries across four continents. Recent DHIS 2 applications are being used both for community-level health data and social service data, for example. This presents an opportunity to examine criteria that could support the integration of community health and social service data in DHIS 2. Doing so could reduce the number, burden, and expense of parallel systems in countries, opening the door to a comprehensive health and social service information system.