Defining Electronic Health Technologies and Their Benefits for Global Health Program Managers: Apps Competition

FS-15-165h.pdf
— PDF document, 88 kB (90,374 bytes)
Author(s): MEASURE Evaluation
Year: 2016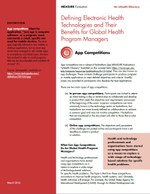 Abstract:
App competitions are a subset of hackathons. They are also known as app challenges. These contests challenge participants to produce computer or mobile applications to meet defined objectives and criteria. Usually, prizes are awarded to participants who develop the best applications. There are two main types of app competitions:
In-person app competitions. Participants are invited to attend an event lasting a day or several days to collaborate and develop a product that meets the objectives and requirements announced at the beginning of the event. In-person competitions are more commonly known in the technology sector as hackathons, but hackathons are more loosely defined as collaborations to achieve a common goal and may not involve competition. Hackathons that are mentioned in this document will refer to those that involve competition.
Online app competitions. The objectives and parameters 

of the challenge are posted online and participants have a set 

deadline to submit a product 

or solution.