Defining Electronic Health Technologies and Their Benefits for Global Health Program Managers: Hackathons

FS-15-165e.pdf
— PDF document, 85 kB (87,592 bytes)
Author(s): MEASURE Evaluation
Year: 2015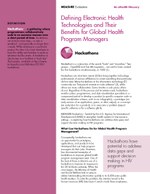 Abstract:
Hackathon is a contraction of the words "hack" and "marathon. Hackathons are short-term events that bring together technology professionals of various affiliations to create something that previously did not exist.
Many hackathons in the information technology (IT) community are "fast-paced contests to code software", while others are more collaborative. Regardless of the process and incentives used, hackathons enable coders, programmers, and data visualization specialists in a compressed period to develop a product (a specific computer code or data visualization scheme, such as an infographic), a prototype (an early version of an application, game, or other output), or a concept (an early idea for a product), or to overcome a problem (export specific software or fix a software glitch).
MEASURE Evaluation is exploring how hackathons can address data gaps and support decision making in HIV programs.