Defining Electronic Health Technologies and Their Benefits for Global Health Program Managers: Data Science and Big Data

FS-15-165c.pdf
— PDF document, 87 kB (89,850 bytes)
Author(s): MEASURE Evaluation
Year: 2015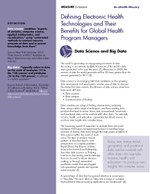 Abstract:
The world is generating an ever-growing mountain of data. According to an estimate by IBM, 90 percent of the world's data were generated in the past two years. Moreover, in 2020, the amount of data the world generates will be 20 times greater than the amount generated in 2011. Data science is an emerging field that capitalizes on this growing data environment and emphasizes creative uses of data to discover the stories that data contain.
While hard to quantify, big data is in the magnitude of petabytes or terabytes, while the average electronic medical record database is in megabytes—four times smaller than a big data repository.
Big data can be understood in terms of the "Three V's": "higher volume, greater variety and quicker velocity" data, coming from "sensors, social media sites, online photos and videos, online purchase records, mobile phone record signals and call records." Data science's methods of collection, analysis, and communication are suitable not only for high-volume and velocity data but also for data of lower volume and velocity.
For more than 20 years, MEASURE Evaluation has helped countries build their capacity to collect and use high-quality health data for evidence-based decision making and programming. Building on this history, we are conducting a proof of concept activity on how data science techniques can help answer global health questions, including improving health program management.