Defining Electronic Health Technologies and Their Benefits for Global Health Program Managers: Dashboards

FS-15-165b.pdf
— PDF document, 159 kB (163,661 bytes)
Author(s): MEASURE Evaluation
Year: 2015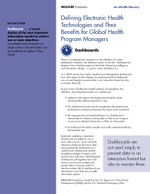 Abstract:
There is no widespread consensus on the definition of a data dashboard. However, the definition developed by Stephen Few, describing "a visual display of the most important information needed to achieve one or more objectives; consolidated and arranged on a single screen so the information can be monitored at a glance"—is used in many disciplines.
Dashboards are linked to one or more data sources, most commonly relational databases that store data and populate the dashboard on a routine basis. Well-designed dashboards pull together data from various sources and analyze and present them in formats useful to decision makers.
Dashboards are being used increasingly in global health program management. Varying with the availability of data, these dashboards are customized to highlight performance indicators, geographic representation of data, epidemiological data, cost data, and data quality, etc. at the different levels of a health system.