mHealth Data Security, Privacy, and Confidentiality

cl-19-025.zip
— Zip archive, 3,402 kB (3,484,203 bytes)
Author(s): Lauren Spigel, Samuel Wambugu, Christina Villella
Year: 2018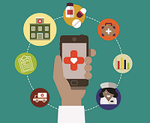 Abstract:
Information technology is spreading fast, and its adoption in the health sector is gaining ground rapidly. Under the banner of eHealth, mHealth, or digital health, mobile technology (such as laptop computers, mobile phones, and tablets) has become an indispensable tool to increase health coverage. As countries strive toward universal health coverage, mobile wireless technologies—mHealth tools—in support of enumeration, registration, and unique identification of patients, along with maintenance of health records, will facilitate improved health system performance. Electronic forms and registry systems will enable routine monitoring of the coverage of essential interventions for individuals in relevant populations.
Because mobile technology is widespread, governments and organizations are harnessing their power to collect, collate, transmit, and present data in a timely fashion, thereby overcoming barriers inherent in paper-based systems. The rapid progression of technology enables the increased sharing of data between electronic systems. This can provide decision makers with valuable data and improve their ability to make critical decisions on health programs.
As healthcare organizations turn to mobile devices to improve efficiency and productivity, many are introducing risks that could all too easily result in a data breach and the exposure of protected health information. Organizations around the world are taking note and providing guidelines on how to safeguard electronic personal health information.
MEASURE Evaluation has published mHealth data security, privacy, and confidentiality guidelines and an accompanying checklist. The guidelines are intended to strengthen national health information systems (HIS), by providing a tool to guide decisions on security, privacy, and confidentiality of personal health information collected and managed using mobile devices. The checklist will help mHealth project managers and HIS officials from ministries of health assess security, privacy and confidentiality concerns of mHealth programs.
Access the full collection online at https://www.measureevaluation.org/our-work/mhealth/mhealth-data-security-privacy-and-confidentiality/