A Virtual Relationship Building Skills While Generating Evidence
By Bridgit Adamou, MPH. Read about MEASURE Evaluation's small grants program, which helped fill much-needed evidence gaps in family planning and give a boost to USAID's aim for countries to have stronger capacity for rigorous research.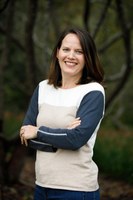 By Bridgit Adamou, MPH, MEASURE Evaluation
What began in 2009 as a pilot program for the United States Agency for International Development (USAID), became a cost-effective way to do two things at once—fill much-needed evidence gaps in family planning and give a boost to the agency's aim for countries to have stronger capacity for rigorous research.
I was the administrator for the small grants program through MEASURE Evaluation, funded by USAID. Over 10 years, we used three funding streams to award 47 grants, 34 of which were focused on family planning. It was a win-win-win: USAID received "bang for the buck" in terms of cost-effective and valuable research; the grantee organizations obtained scarce funding to gain research experience; and I was able to collaborate with local researchers and watch these organizations grow.
What I liked best were the relationships I built with the grantees. I have only met four of them in person, so it was almost exclusively a virtual relationship. And part of why that worked is because I'm married to a Nigerien and have lived in a low-resource country. For both those reasons, I absorbed a value that the personal comes before the professional. The grantees and I shared information about our lives—they knew when I went home to visit my family; I knew when they had babies or were looking for a new job. I would send photos and they would do the same.
Aside from the personal rewards, the small grants program offered an amazing experience for these professionals and their organizations. Opportunities to conduct this kind of research are largely unattainable, both technically and financially, by people living in the very countries being studied. In fact, an analysis in The Lancet found that although 92 percent of journal articles on health research were about interventions in low- and middle-income countries (LMICs), only 35 percent of the authors of those articles were from LMICs.
Small grants to conduct in-country research are one mechanism to address that disparity and provide financial support for family planning research in LMICs. Our program had three specific aims:
Address research gaps in routine health information systems for family planning and reproductive health that could inform policy and program decision making
Build research capacity among local agencies
Increase the use of research findings by providing an opportunity for data to be disseminated to and used by local stakeholders
Capacity strengthened
This was a unique program for MEASURE Evaluation because it was very grassroots-oriented. While some grantee organizations and university departments were well-staffed and well-established, others were nascent and small. I found it gratifying to work directly with researchers putting research theory into practice and strengthening their research, management, and writing skills.
For example, even the application process to win a grant was rigorous. We required the applicants to identify how their proposed study would fill a research gap, explain their research methods, describe how they would share their research finding, and outline a budget. When we were selecting the winners, we also looked at their professional experience and how they answered their own research question. We selected some knowing that while they wouldn't need much technical assistance, they would conduct a journal-worthy study. For others, we knew their research might not be amazing or groundbreaking, but we felt the collaboration could significantly strengthen their research capacity.
Always, there were challenges. Many organizations didn't have good Internet connectivity. For the study team leads, it was not uncommon for the research to be a second or third job—for instance, they might be a teacher, a physician, and a grantee. Challenges with weather or obtaining local approvals often delayed their data collection in the field. Our management system expected deliverables on time, but it was not uncommon for grantee deliverables to be late because of the constraints the grantees experienced. There's often a disconnect between our reality here in the United States and the reality they're dealing with.
The successes were, therefore, something to celebrate. For example, for a group in South Sudan, the grant was their organization's first research award and, afterwards, they won two more research grants from big donors—one of them to study Ebola.
We had a grantee from Tanzania who had applied for our family planning grant three times and finally submitted a winning proposal on the fourth try. Part of why they were funded was due to the earlier work we had done with them for our HIV-focused small grants. With the feedback and coaching we had provided, the proposal was now in a different league; they had learned to think things through.
In my view, issuing small grants is a successful strategy for generating evidence and supporting USAID's Journey to Self-Reliance, which aims to strengthen local capacities. The small grants model facilitates sustainability by working through host-country institutions to research relevant family planning issues, disseminate findings and recommendations to local researchers and decision makers, and help develop solutions for improving family planning outcomes. 
Find results from small grants studies at www.measureevaluation.org/our-work/capacity-building/small-grants-program.