Fundamentals of Program Impact Evaluation
On March 31, MEASURE Evaluation will host the "Fundamentals of Program Impact Evaluation" webinar. This is the first in the "How Do We Know If a Program Made a Difference? A Helicopter Tour of Methods for Estimating Program Impact" webinar series.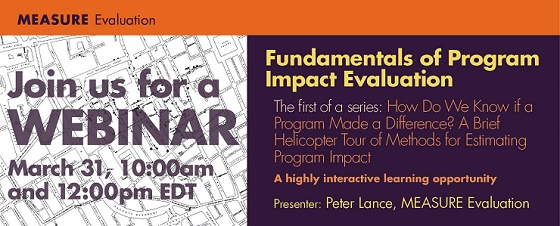 Due to high registration, a second webinar will be held at 12pm EST. Both webinars will share the same content. Register for the 12pm EST webinar or the 10am EST webinar.
The USAID-funded MEASURE Evaluation project will host a series of webinar discussions of the popular MEASURE Evaluation manual, How Do We Know If a Program Made a Difference? A Guide to Statistical Methods for Program Impact Evaluation (Lance P, Guilkey D, Hattori A, Angeles G, 2014). Each webinar in the series will review key topics from a chapter through verbal discussion and graphical presentation. The webinar series will enable participants to understand the resources offered in the manual, a learning tool for use of methods to estimate program impact. The series will also provide stand-alone training tools for the topics covered.  MEASURE Evaluation's goal with these webinars is to provide a highly interactive learning opportunity to participants (please: ask questions!).
The first webinar in the series, to be held March 31, 2016 at both 10am EST and 12pm EST, will be on "Fundamentals of Program Impact Evaluation." The webinar will address the basic challenges of program impact estimation. Presenter Peter Lance, Research Associate at MEASURE Evaluation, will define causality in the process introducing the potential outcomes framework that is the foundation for discussion of most impact estimation methods. He will then describe the different types of data failures that can preclude straightforward estimation of program impact. The consequences of these failures will be illustrated with empirical examples. Finally, we will review a series of background issues (other traditions of causality, observer and Hawthorne effects, etc.) that one should constantly be aware of when estimating program impact and interpreting the results. In the course of this webinar, we will introduce certain basic mathematical tools necessary to the remainder of the series, for sessions that discuss specific impact estimation strategies.  
Building on the foundation laid by the March 31 webinar, MEASURE Evaluation will offer additional webinars covering specific impact estimation strategies. The first of those will discuss randomized control trials. Subsequent webinars will cover the selection on observables approaches (such as multiple regression and matching) within estimation (such as difference-in-differences) and final instrumental variables methods. 
Register to attend the 12pm EST webinar or the 10am EST webinar.