Know Your HIV/AIDS Response: Southern Province, Zambia. An Examination of Program Implementers in the Nongovernment Sector

TR-14-108.pdf
— PDF document, 1,120 kB (1,147,172 bytes)
Author(s): Gage AJ
Year: 2014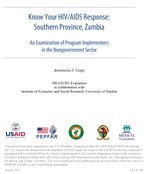 Abstract:
The Know Your HIV-prevention Response study was a situation analysis of HIV-prevention interventions and was conducted in Southern Province, Zambia, from September to October 2013. The study was implemented jointly by MEASURE Evaluation and the Institute of Economic and Social Research (INESOR) at University of Zambia. The study had five instruments, two of which were the Program Implementer Core Questionnaire and the Program Implementer Modules for Key (and vulnerable) Populations, on which this report is based. The study population included 93 organizations in the nongovernmental organization (NGO) sector and had three primary objectives:
determine what specific HIV-prevention interventions were being implemented;
determine by which organizations and in which districts the interventions were being implemented; and
assess the extent to which the HIV-prevention response matched current HIV-transmission patterns, were focused on geographic areas where HIV was spreading most rapidly, and covered technical recommendations for populations at higher risk of HIV exposure.
Information was collected on six categories of interventions: standard hybrid interventions commonly used; interventions affecting knowledge, attitudes and beliefs and influencing psychological and social risk correlates; harm reduction interventions; biological/biomedical interventions that reduce HIV-infection and transmission risk; interventions for the mitigation of barriers to prevention and negative social outcomes of HIV infection; and interventions for the mitigation of biological outcomes of HIV infection. Data were also collected on interventions targeted at the following key and vulnerable populations: female sex workers; men who have sex with men and transgender; people who inject drugs; young people aged 10-24 years in the general population; emergency settings and refugee/internally displaced population; migrant and mobile populations; pregnant women, infants, and young children; uniformed personnel/services; and incarcerated populations. 
The main findings are described for the NGO sector, with particular attention to geographic gaps in the availability of specific interventions.