Can Mobile Phone Text Messaging Increase Uptake of Family Planning Services in Uganda?

WP-13-135.pdf
— PDF document, 496 kB (508,417 bytes)
Author(s): Walakira B, Lubaale YAM, Balidawa F, Nalule S, Githinji F
Year: 2013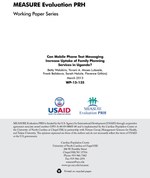 Abstract:
The study objective was to determine if mobile telephone text messages on family planning influence uptake of modern contraceptive methods and services, how the support information messages impact contraceptive services uptake, the effect of the language in which the message is sent on services uptake, and the effect of mobile phone ownership on services uptake.
The study was conducted in Jinja District in the Eastern region of Uganda. The study was a longitudinal comparison group study that included 679 women (375 women in the experimental group and 304 in the control group).
There was a significant relationship between the language in which a message was sent and acceptance of a modern contraceptive method. The majority of the women in the implementation group who were using modern contraceptive methods (65.6 percent) felt that the messages they had received where helpful in contraceptive adherence/continuation decisions. They reported that the messages had helped them understand how to manage the side effects (52 percent), or use the method more correctly and effectively (66 percent). Furthermore, the majority of the women (75 percent) who received text messages mobilizing them to turn up at the health facility for family planning sensitization meetings honored the invitation.